3M Indoor Water Filter AP Easy Complete with Stylish Faucet
Description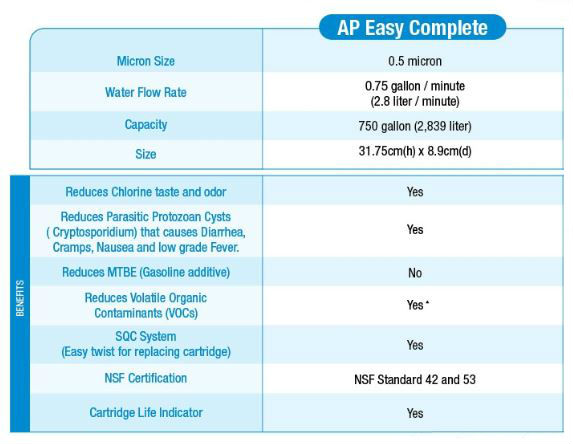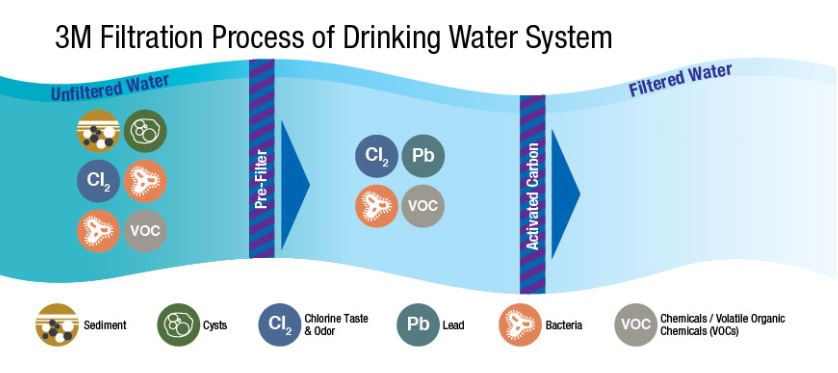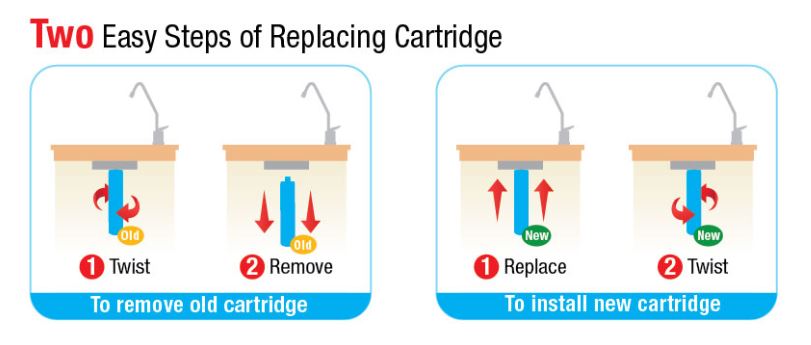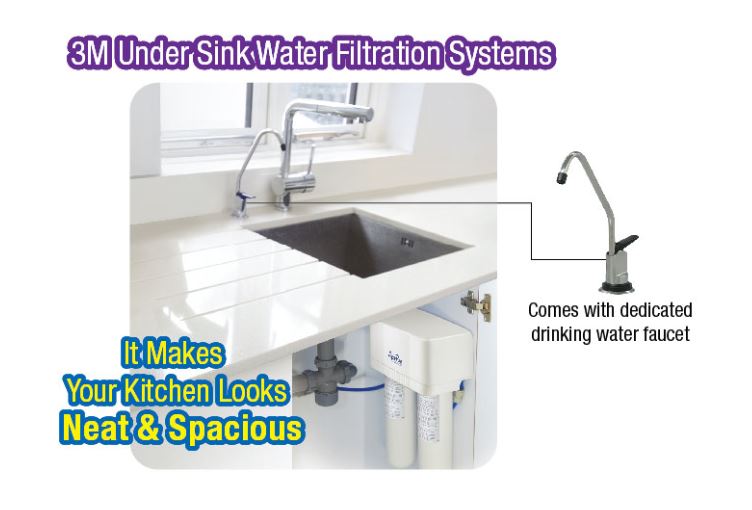 Features 
Advanced single stage filtration delivers high output. 
Built-in bypass valve - No need to shut off water for catridge change. 
Fully enclosed filter media - No spill, no mess. 
Sanitary Quick Change (SQC) design - Easy cartridge change-out. 
Inclusive of installation fittings, faucet - Trouble-free installation. 
Manufactured from FDA CFR-21 compliant material. 
NSF Std 42 & NSF Std 53 tested and certified. 

Replacement Cartridge 

Removal capability 
Remove 99.5% of filterable cyst. 
Chlorine taste and odour. 
Sediment and rust. 
Lead & parasitic protozoan cysts. 
VOCs* & Mercury (*VOCs include: Lindane, Atrazine, Benzene, Carbofuran, 1,4-dichlorobenzene and Toxaphene). 

Specifications 
Inlet/Outlet Size: 1/4" (0.64 cm) tube. 
Flow rate: 0.75 gpm (2.9 lpm). 
Micron Ratings: 0.5 micron nominal. 
Capacity: 750 gallons (2,839 liters). 
Dimension: 31.8cm (H) x 8.9cm (D). 
3M Advantage 
With over 50 years of experience in filtration technology, 3M Purification is a leading filtration solution provider in a wide range of markets. Our filtration solutions are used for even the most demanding and challenging process applications in pharmaceutical laboratories, manufacturing facilities and restaurants. Now, with the 3M Water Filter Systems, you can also experience the superior quality delivered by our products right at home. 
Why Choose 3M? 
 Reliable Performance 

With its specially formulated media, 3M Water Filter Systems are capable of effective removal of Chlorine, Cysts, MTBE***, VOCs.. 

 Easy to Use 

3M Water Filter Systems provide great-tasting water in an instant.. 

 Saves Energy 

With cleaner, clearer, better-tasting water, you do not need to boil water anymore.. 

 Trusted Quality 

3M Water Filter Systems** are tested and certified by NSF International*, thus ensuring that all our performance claims are validated.. 

 Easy to Maintain 

With an effortless twist, filter cartridge change is easier than changing a light bulb. Filter change-out is also made easier with a monitoring device.. 

 Made in USA
*NSF International is an independent lab that ensures all drinking water systems are tested and certified to meet strict public health and safety standards. Visit www.NSF.org to find out more. 
**AP DWS1000, AP Easy Complete, AP Easy Cyst FF 
***Only for AP DWS1000 
NSF/ANSI Standard 42 
Designed to reduce taste and odour, chlorine, nominal particulate and chloramine which increases lead level in bloodstream as well as causing respiratory problem such as asthma.. 
NSF/ANSI Standard 53 
Reduces specific health-related contaminants such as lead, pesticides and cysts which cause diarrhea, cramps, nausea and low grade fever as well as being potentially fatal.. 
Disclaimer 
All product images shown are for illustration purposes only. Actual products may varies in term of size, type, brand, version, colour, and other relevant characteristics.