SANSI 36W LED Grow Light Bulb Daylight Full Spectrum E27 And Sunlight White Grow Light Lamp For Indoor Garden Houseplants/Greenhouse
Description
SANSI Daylight Full Spectrum LED grow light features patented ceramic heat dissipation LED technology, uniformed lighting, and spectrum. It is an effective grow lighting solution for indoor gardening, indoor farming, residential, office plants, grow walls, etc.
Specifications
| | |
| --- | --- |
| Model | C21GL-CE27-36W |
| Input Voltage, frequency | AC 220V 50Hz |
| Rated Input | 36W |
| Beam Angle | 60° |
| Dimming | Not-Dimmable |
| Type of spectrum | Full Spectrum |
| Base | E27 |
| Packaging Dimension (L x W x H) | 130MM x 130MM x 165MM |
| Gross Weight | 0.363KG |
| Net Weight | 0.491KG |
*Note: Forbidden to use enclosed luminaires!
Features
Easy to Install: Fits standard E27 socket, just screw it into your desk lamp, no special lamp base required. Will cover up to 2.47-4.20 sq. ft when being mounted at 18"-24" high above the plants. Lighting times vary from 10hrs to 12hrs depending on different plants.
Full Spectrum: Compared with other grow lights, each SANSI led chip gives out all wavelengths of light, which can be fully absorbed via the plant photosynthesis without any waste, unlike what the fluorescent does with its uneven lights. Works for different growing phases as the Blue-Ray (400-499nm) is good for taller and healthy leaves and the Red-Ray (600-699nm) for blooming and fruits.
Keep Your Plants from Hurt: SANSI led grow light bulb uses cold light source technology, does not contain infrared light, and will not burn your plants. This 36W Daylight Full Spectrum LED indoor plant light not only perfectly imitates sunlight and gives your plants the natural light they crave, but also emits the same light as ordinary light, the attractive light will not affect your life.
No Lampshades Needed: Compared with other grow lights with wider beam divergence which causes a non-uniform light distribution if there are no lampshades. Each SANSI LED designed with an evenly 60° beam angle and high-quality lens, produces a directional light that is aimed at the plants to avoid light loss
30,000 Hours Lifetime: Unlike other brands' plant lights that rely on plastic or aluminum heat sinks, SANSI adopts patented ceramic technology and a unique hollowed-out structure to improve heat dissipation efficiency, prolonging the bulb's lifetime to 30,000 hrs.

Strong Light Promotes Photosynthesis

The light-emitting angle is equal to 60° and the lighting is concentrated in one area with strong illumination and good effect.

Full Spectrum, Higher CRI, Growth Promotion

Simulating Natural Light Makes the Lighting Softer

Unique light distribution, soft lighting, and good light-emitting uniformity effectively prevent plants from growing too high.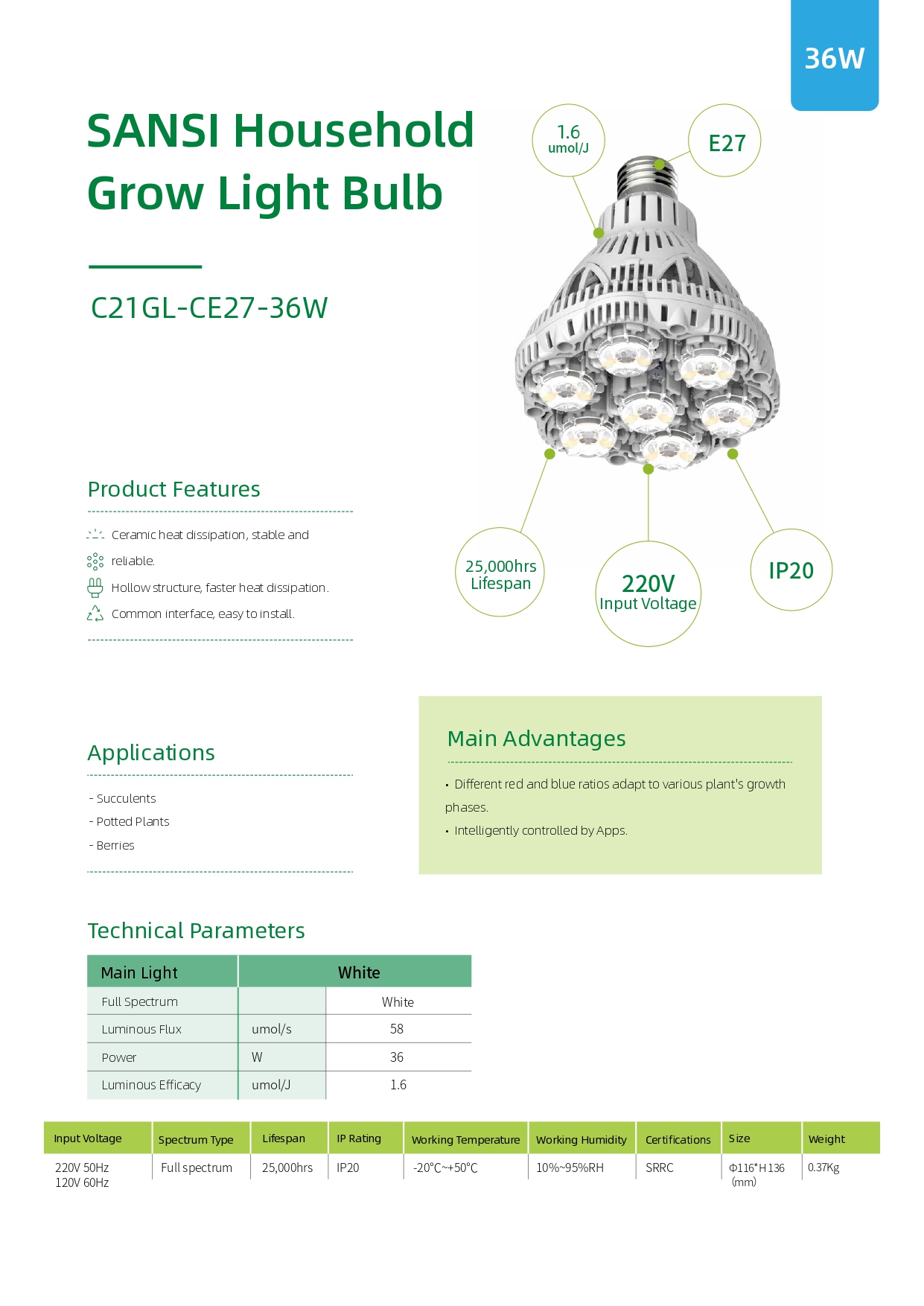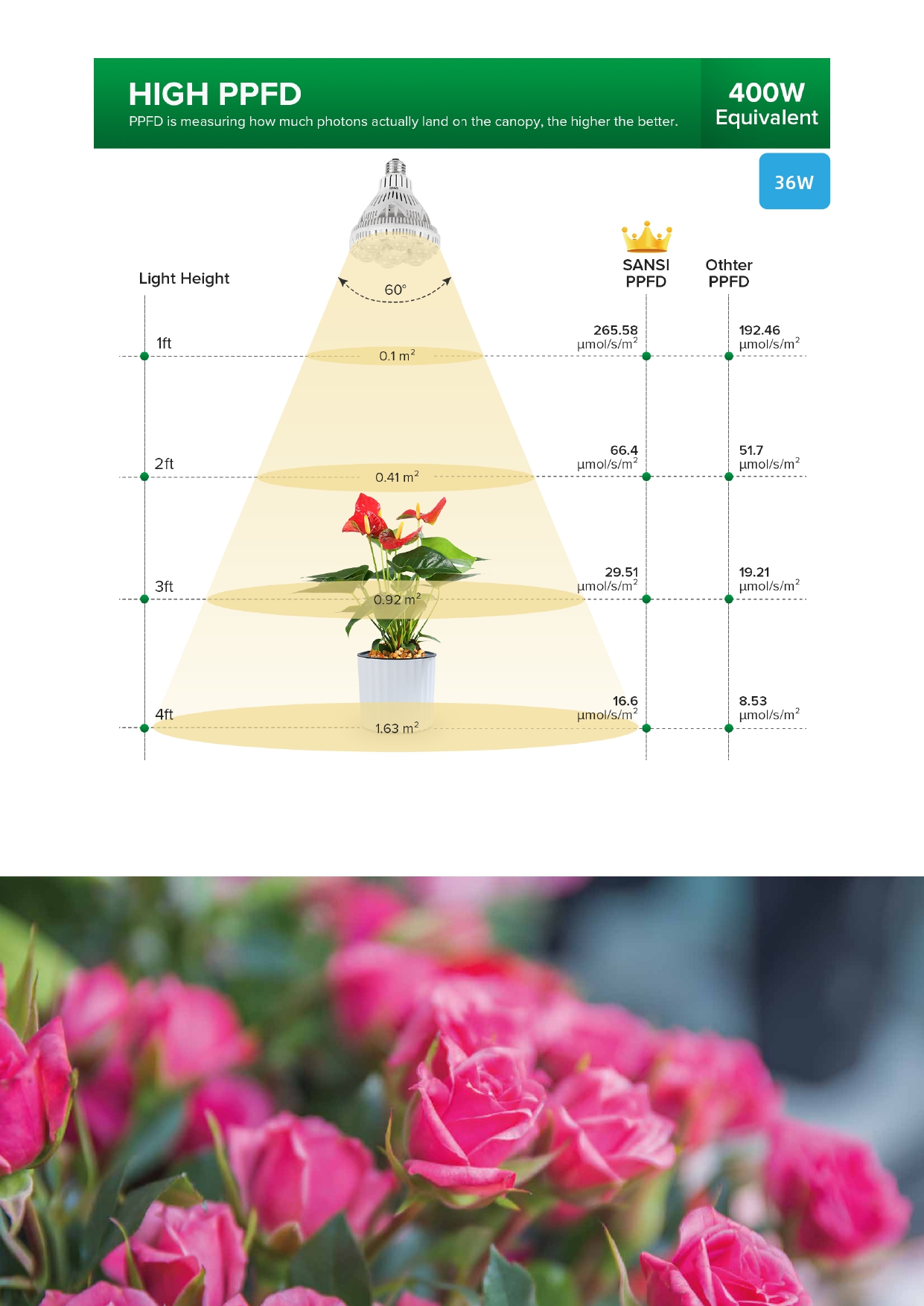 Disclaimer
All product images shown are for illustration purposes only. Actual products may varies in term of size, type, brand, version, colour, and other relevant characteristics.