THI Electro Galvanized (EG) Metal Door Frame 0.8MM (T) x 150MM (PS) 33 6/8" (W) x 7' (H) (LEFT)
Opening Directions
LEFT Opening
RIGHT Opening

Door knob on LEFT
Door Knob on RIGHT
Hinges on RIGHT
Hinges on LEFT
Features
Material: Electro Galvanized (EG).
Thickness: 0.8MM.
Profile Size (PS): THI 8, 150MM (6").
Inner Width: 33 6/8".
Outer Width: 36".
Outer Height: 84".
Inner Height: 83".
3 PCS x 100MM Galvanized (GI) Welded Hinges.
Corners: Tagged, mitred, welded & treated.
Striker plate.
Fish Tails.
Technical Detail THI Door Frame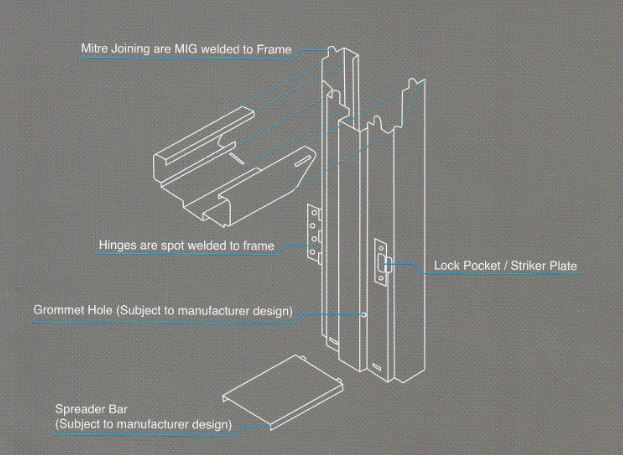 Installation Procedure
| | |
| --- | --- |
| | Mark out the area where the brickwork and the door is going to be |
| | Use two lengths of timber to prop up door to standing position. |
| | Use a spirit to plumb the frame. When it's plumbed, secure the timber stays with a couple of bricks. |
| | You can now proceed to lay the bricks into the rebate at the back of the frame. |
| | It is important to place mortar into the gap between the brick and the frame. This is to ensure that the frame when filled with cement will be extremely rigid and strong. Further, the wall will be constructed plumb with uniform thickness. |
| | Each metal door frame is supplied with a number of wire brick ties. Use them to tie brickwork every fouth of fifth brick course. |
Disclaimer
All product images shown are for illustration purposes only. Actual products may varies in term of size, type, brand, version, colour, and other relevant characteristics.