3M AP110 Whole House Water Filter Replacement Cartridge
3M AP110 Whole House Water Filter Replacement Cartridge 
FREE SHIPPING - WE SHIP IT TO YOU FOR FREE. Enjoy Free Shipping to Klang Valley. We are more than happy to deliver your orders right to your doorstep. All you need to do is tell us when! 
Description 
This Aqua-Pure sediment cartridge is made from an exclusive progressive porosity process that entangles and entraps larger sediment particles toward the outer diameter and progressively smaller particles toward the cartridge core. This allows even loading for maximum cartridge life. In addition, the unique square-grooved surface provides more sediment-trapping surface area than ever before. Unlike string-wound and pleated paper cartridges, the rigid, sturdy constructions of the Aqua-Pure cartridges are able to withstand variations in water pressure. 
Single action for sediment reduction. 
Progressive porosity for longer life. 
Hot and cold water applications (up to 170°F). 
Made from FDA (CFR 21) compliant materials. 
Genuine OEM product. 
Specification 
Application: Pre-filtration, Particulate/Rust. 
Up to 30% Longer Lasting. 
47% More Surface Area. 
50% More Efficient. 
Patent pending technology provides fine sediment filtration down to 5 micron. 
Grooved cartridge increases surface area for longer cartridge life, by 132% over non-grooved and 47% over the previous design. 
Rigid construction helps to eliminate sediment "unloading" due to variances in water pressure.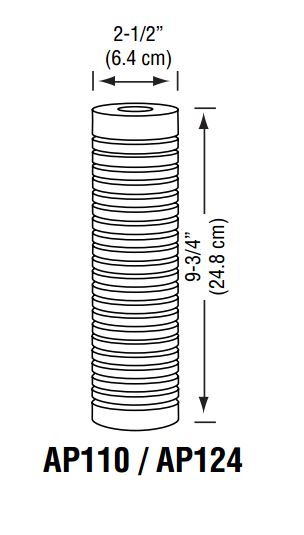 | | |
| --- | --- |
| Model | AP110 |
| Dimension (H x DIA) | 9-3/4" (248 mm) x 2-1/2" (64 mm) |
| Reduction Claims | Sediment |
| Replacement Interval | 6 months |
| Weight | 0.8kg |
| Warranty | No warranty |
Disclaimer
All product images shown are for illustration purposes only. Actual products may varies in term of size, type, brand, version, colour, and other relevant characteristics.