Aqueous FRB0942 Water Filter 225MM (D) x 1200MM (H1) 120PSI 38L/Min
Description
Model: FRB0942
Total Height (H1): 1200MM
Tank Height (H2): 1050MM
Tank Diameter (D): 225MM
Valve Size: 1" or 3/4"
Max Working Pressure: 120psi
Flow Rate: 38L/Min
10 Years Warranty (Filter body only)

5 Layer filtration system
Anthracite - While trapping the sediments, being the primary function of the carbon, it leaves 10% to 25% the chlorine in the water to give bacteria-static benefit to the water in the water tank.
Zeolite - It is a naturally occurring mineral rock, formed when mineral-rich underground water deposits crystallize. Its porous crystalline structure provides advanced filtration properties and processes a unique capacity to absorb ammonia and various ionicspecies (metal ions, calcium, magnesium etc).

Fine Gravel - Removes dirt and prevents diseases such as Typhoid, Cholera, Bihdryia, and Amoeba.

Fine Sand - Further trapping of very fine sediment at the surface of fine silica sand.

Coarse Gravel - Underbed support, to balance the pH and increase oxygen content and restoration of water quality.

Backwash Instructions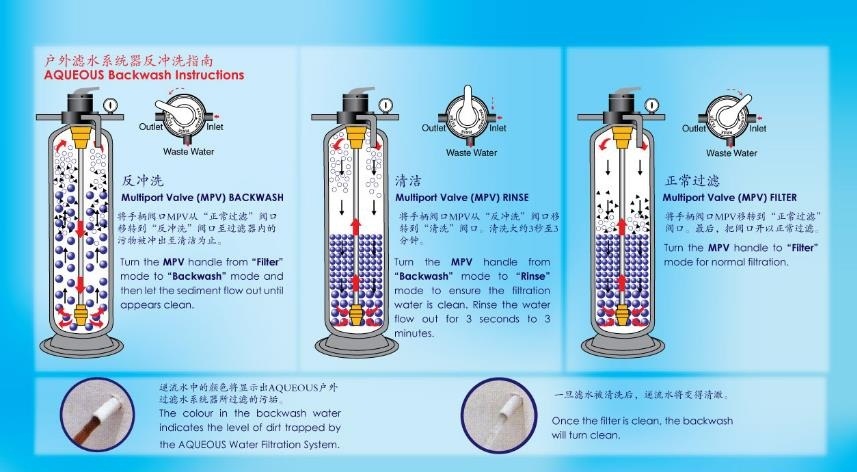 Disclaimer
All product images shown are for illustration purposes only. Actual products may vary in term of size, type, brand, version, colour, and other relevant characteristics.