Home Store Galvanised Concertina Barbed Tape 10KG 500MM (D) x 10M (L)
Specification
| | | | | | | |
| --- | --- | --- | --- | --- | --- | --- |
| Coil Diameter | Weight | Length | Thickness | Blade Length | Blade Width | Spacing from blade to blade |
| 500MM | 10KG | 10M | 0.5MM | 22MM | 15MM | 15MM |
| 750MM | 10KG | 7M | 0.5MM | 22MM | 15MM | 15MM |
| 1000MM | 10KG | 5M | 0.5MM | 22MM | 15MM | 15MM |
Barbed Tape Concertina was originally developed in the United States for the U.S. Defence Department. It is widely used in the U.S. and many other countries around the world.
With its effectiveness proven in wars and riots, Barbed Tape Concertina is a suitable physical barrier for Military Installations, Airports, Power Plants, Prisons, Factories, Boundry Fences and other High-Security Buildings.
Why choose Barbed Tape Concertina
Light Weight, Compact, Re-usable.

Barbed Tape Concertina for its lightweight, compact packing makes storage, handling and transportation very easy. It can be erected and dismantled, it can be retracted into a compact coil again and stored away for future use.

Effective Barrier.

Barbed Tape Concertina has very sharp and closely spaced barbs. It is both a strong psychological deterrent and an effective physical barrier against intruders.
It is not possible to crawl through or climb over the Barbed Tape Concertina. If such an attempt is made, the intruder will sure to suffer multiple cuts.
It is effective in stopping the vehicle, as it tends to coil itself around the tyres or the axles of the vehicle thus prevent further movement.
Corrosion Resistance.

The tape and the spring wire of Barbed Tape Concertina are galvanised for better corrosion resistance while in use or in storage.
Technical Description
Barbed Tape Concertina consists of 50 coils of single strand, zinc coated, spring steel wire fitted with zinc-coated barbed tape.
These spiral coils are connected together by steel clips. When fully extended, the coils form a cylindrical diamond pattern yet maintaining its circular shape. When released, the spiral coils can be retracted into a compact coil again.
Every roll of Barbed Tape Concertina is individually compressed and then secured by 4 lengths of bundling wire. These bundling wires are fitted to one of the end coils. Both of the end coils are fitted with 2 pieces of wire carrying loop (1,000 mm coil diameter).

Installation Format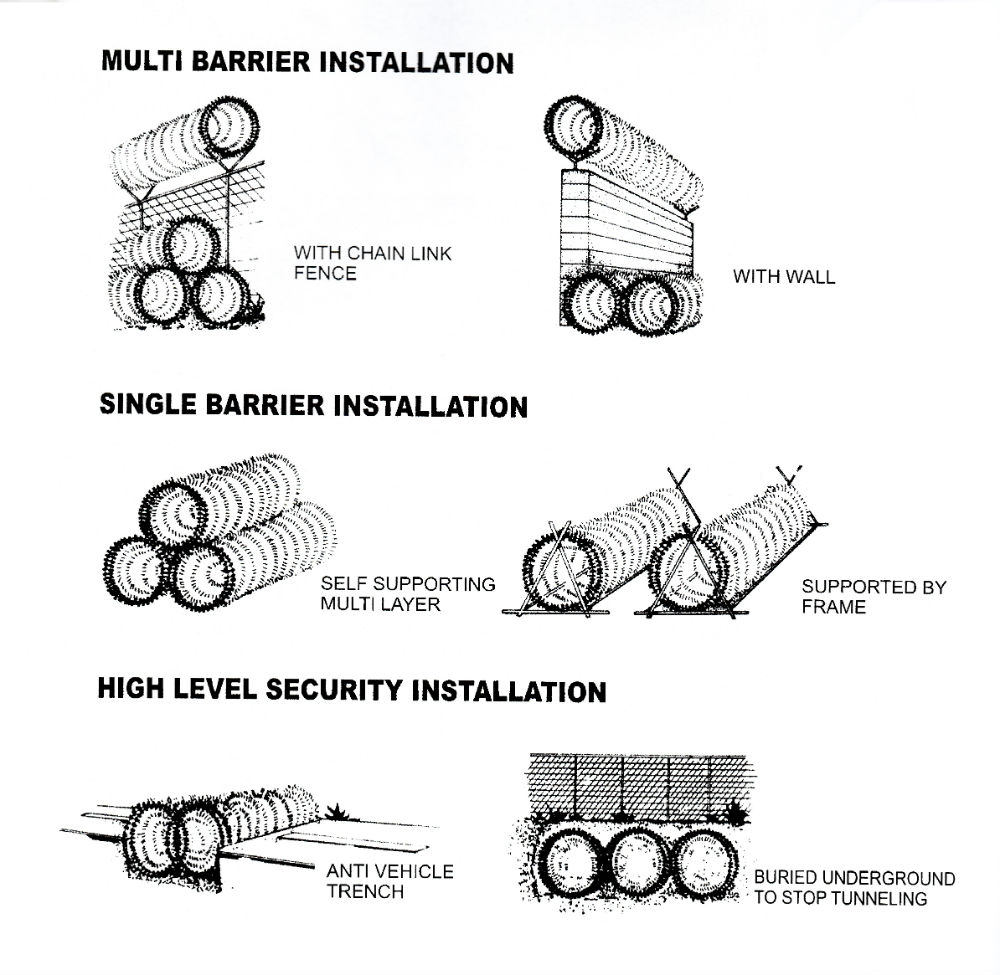 Disclaimer
All product images shown are for illustration purposes only. Actual products may vary in term of size, type, brand, version, colour, and other relevant characteristics.