Torayvino RSC51 Replacement Filter For RS52
Description
Part number: RSC 51.
12,000 L = 5 months (when using 10 minutes a day).
Type of filter material: activated carbon.
Weight: 0.3kg.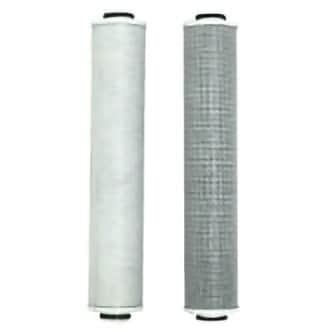 As the left picture shows, there are products with different appearance (nonwoven fabric part), but the specifications other than that part are the same, there is no difference in performance.
Please use with confidence.
Water purification performance
Remove residual chlorine firmly with safe material!

Activated carbon is used for the filter material of the cartridge. Activated carbon is certified as a food additive, so you can use it with confidence.
Removal of residual chlorine damaging hair and skin firmly
When residual chlorine contained in tap water adheres to hair, proteins such as cuticles are oxidized and decomposed. It may cause split hair, cut hair, dandruff, cayeye etc.

.

When residual chlorine contained in tap water oxidizes proteins on the skin and the moisturizing power of the skin decreases, the arrangement of the stratum corneum is disturbed as shown in the figure, which makes it susceptible to irritation and invasion of bacterial allergens is facilitated , It is easy to induce sensitive skin and atopic dermatitis * 1.
* 1 Extracted from "Water and Shampoo-friendly Clean Water Shower Q & A" published by the General Association of Japan Water Purifier Association.

.
​
How to install
Turn the top of the shower in the direction of the arrow (left) to remove it and remove the used cartridge.

.

Invert the water that is gathered in the grip part and hose, throw it away, and insert a new cartridge. (The cartridge does not distinguish between upper and lower.)

.

Please turn lightly the top of the shower by turning it in the direction of the arrow (right).
※ If you tighten too tightly it may not come off. Please tighten the signs of the part surrounded by red.

.
Disclaimer
All product images shown are for illustration purposes only. Actual products may varies in term of size, type, brand, version, colour, and other relevant characteristics.